Success stories Rwanda
Job creation from the bioeconomy
In Rwanda, the biowaste economy is creating jobs around the valorization of organic waste.
In some of the steps created by this economy, female labour is preferred such as for peeling cassava, sorting inorganic waste from organic waste, or growing the black soldier fly larvae.
Acknowledging the scarcity of jobs scarcity in rural areas and the traditional male labour preference, the female bioeconomy workers expressed their satisfaction to be employed.
"As a single mother, this job at MAGGOT farm allows me to support my mother, my brother and my one-year-old daughter. Even though I do not enjoy the smell of this grinded organic waste, I am still happy to come to work every day and interact with my colleagues. I hope that someday I can save enough money to buy a sewing machine. My dream is to become a tailor."  (Julienne Uwase)
Scaling up the valorization of waste
In Rwanda, some RUNRES stakeholders were already experimenting with the valorisation of organic waste but only on a very small scale.
By connecting the stakeholders of the waste and the agricultural sector and by providing technical and financial resources, three innovations were able to develop and scale up their waste transformation activities.
The innovations transform the organic waste into compost which is urgently needed by local farmers to increase soil fertility and as an alternative to costly animal feed.
Several newspaper articles report about the RUNRES innovations.
For many years, cassava peels were considered waste and an environmental nuisance in rural communities. However, the situation is changing thanks to innovation and entrepreneurship to turn the waste into revenues. Cassava is a major staple crop in Rwanda as a source of calories and income for rural households and over 200,000 hectares are used for cassava growing in the country. Such consumption of cassava generates a significant quantity of peels as cassava peels make 20 per cent of harvested cassava tubers meaning that when farmers reject peels as waste they lose a lot. Akanoze Nyamiyaga Ltd, a small cassava processing firm located in the Kamonyi District is changing the narrative about cassava waste by turning it into revenue. Founded in 2018, and owned by Alice Nyirasagamba, her business is processing cassava into flour for cooking and baking. The female entrepreneur, following exposure to the High-Quality Cassava Peel (HQCP) technology developed by agricultural research, added a processing unit to the existing business to produce and sell HQCP mash to poultry farmers. High Quality Cassava Peel (HQCP) mash is a perfect animal feed ingredient in cassava-producing countries "We use between 12 and 15 tonnes of fresh cassava daily in the first processing unit, and waste generated is processed into animal feed ingredients in the new unit constructed," she said. (Excerpt from a newspaper article in "The New Times" about one of the RUNRES innovations, read the full article here: Kamonyi female entrepreneur turning cassava waste into livestock feed)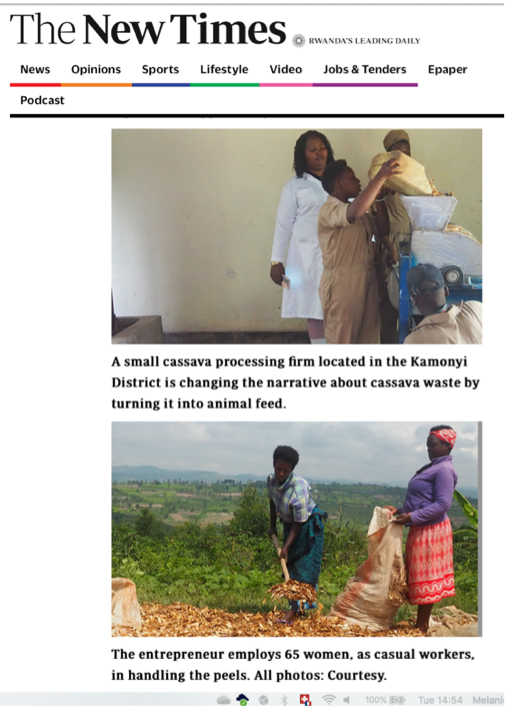 "I learned about farming black soldier flies to produce animal feed during my masters in Asia. Back in Rwanda, I was prototyping on my farm. With the support from RUNRES, I can do everything on much larger scale. Through the project, I got in contact with a waste collector and now have better access to the waste I need for my production. Now I feel like I am running an innovation: I can provide farmers with cheap protein for their livestock and even produce some compost as a side product. It's still new for people to see a Rwandan that has a fly farm. You are supposed to have cows, not flies. But now the other farmers find it very helpful that I have a fly farm. The support through RUNRES gives more credibility to what I do. For example, I can now more easily get data on the protein and fat content of my product, which are important quality indicators." (Barthazar Masengesho, Maggot Farm)